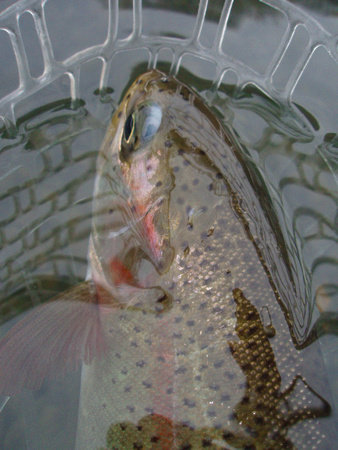 Today I was heading to north Knoxville to pick up my son, and took along my fishing gear just in case I had time to fish the Clinch. I fully expected the river to be a mad house since it was the first Saturday that the generators have been turned off. My thoughts were confirmed when I came upon the parking lot at the weir dam. There was not a single open space, and I have never seen it that crowded. I made my way on up the road to where the horse trailers park and made my way into the water there. There were already 4 people fishing in this area, but I managed to find an open spot slightly upstream of them.
Very Healthy 14" Bow
I spent some time watching the water and saw a good amount of surface activity and chose to try a midge pupae and larva tandem. It didn't take long for the fish to tell me that they approved of my selections. I only fished today from 3:30 til 4:30, but managed to bring 8 to hand in that time frame. That is one of the most active days I have seen in a long time, and I am anxious to return. Talked to some others at the river and results were very wide ranging. Some had a terrible day, and others were slaying them. I think the biggest mistake newcomers make on the Clinch is they fish flies that are way too large. Basically they are failing to match the hatch. I talked to one guy there before who was very frustrated, so I asked him what he was using. He replied with San Juan Worm, #12 BHPT, #10 hare's ear, #14 Copper John, etc. I then told him that I never use anything other than streamers on the Clinch larger than a #16 and usually my choices are more in the #20 - 22 midge range. Which is exactly what I was fishing today.
First Fish - 12" Brown
Until next time,
Tight Lines and God Bless