I have had a crazy couple of weeks at work, and told the wife I had to have some fishing time this week for sanity sake. So, Thursday evening I contacted Buzz about doing a little smallie fishing on Little River, and he was game. I haven't been smallie fishing in probably two years, and was anxious to give it a go again. I had to work in the morning, so we didn't meet up until around 2:00. When we got to the river, the sun was high and the temperature felt even higher. Additionally, the water level and flow was much higher than I anticipated.
We made our way into the river, and found it slow going with the fast current. After about an hour of wading difficulty, no takes, and about a gallon of sweat we chose to try our luck on trout in the park.
Time was not necessarily on our side, so we had to pick somewhere that was more convenient instead of less populated or better chances at a good day. It had been a while since either of us had fished MPLR, so we figured it would be worth a shot.
On the hike in we saw this interesting snail about 3' off the ground on this tree.
Buzz was the first to hop in the water, and he found success in his first run.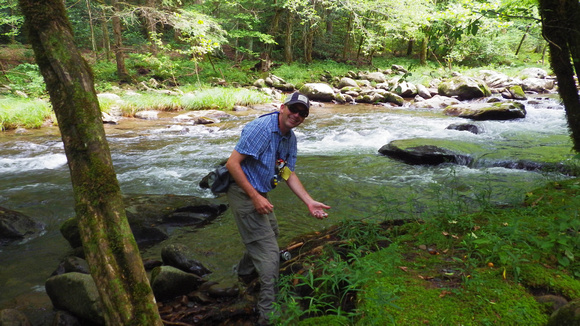 I went upstream a little way, and shortly thereafter brought my first bow to hand.
He came out of this nice little run:
The fishing was sporadically intermittent, and a couple of times I found wet bootprints. So, I think we were going in and out of "used" water and that is where the fishing was slow. Regardless, the bows were looking up and taking dries quite readily.
Here is Buzz working another run.
Eventually, my best dry pattern got water logged, and I switched over to a pink weenie (barbie bug). This is of interest to me, because I have never caught a trout in the park on a green or pink weenie. However, all the posts showing people using them made me figure I would give it another try. Not long after the switch, I brought one to hand. Unfortunately, he didn't cooperate with the photo shoot, but thankfully I had another willing model in the next run.
As we came around the corner into a clearing we noticed the ominous clouds in the sky, and chose to call it a day. We didn't catch tons of fish, but considering where and when we were fishing it was a successful outing. It was good to get out again, and maybe I should make more of an effort to get out before the stress level gets so high again.
Until next time, tight lines and God bless!