Made it out to the Clinch today for a few hours. When I arrived at 1:00 there was no surface activity, but that didn't keep the fish from actively taking a #16 BHPT in the pocket water and runs. However, most of the fish in this water was of the small variety, averaging around 10". They sure were colorful though.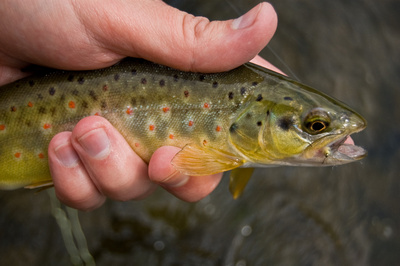 Finally, around 2:00 some larger heads started poking through the surface sucking down sulfur emergers. I took this opportunity to try out a new pattern I have been working on, a cripple/hackle stacker combination. I was quite pleased with the results and eventually the fish started focusing on duns, so I switched over to a #17 sulfur thorax for those fish. Very few fish were taking dries, so I had to did quite a bit of stalking. I would take a break and have a drink and snack while watching for the most consistently rising fish. I would then coat my fly with frog's fanny and slowly move into casting range. It wasn't uncommon to make probably 10 drifts over the same fish before it would take. However, it sure made for some very rewarding fishing.
Just as quickly as they started rising to sulfurs, they quit. About 4:00 things really slowed down. Not long after that a couple other guys showed up and slowly started moving downstream toward me, so I leapfrogged them upstream into some historically less productive water. I piddled around there with no success, and so I elected to call it a day.
Until next time, tight lines and God bless.