I have had the itch to get out to the Clinch again and reconnect with a river that has been very good to me this year. I have been on the Clinch easily 25 or 30 days this year, and have yet to get skunked (most have been multiple fish trips). So, I got up Saturday morning and made it to the river at 10:00, and was surprised to find the lack of people on the river. Finally, maybe with hunting season being here the pressure will slack off. I had about 3 hours to fish before I had to be back home to help Amy with Trey, so I tried to make the most of my time on the water. I immediately walked way downstream to a very productive run I found on my previous trip, and immediately hooked up with a couple small bows. That was a little surprising since I usually catch very good quality fish out of this little run. I worked my way downstream picking up fish here and there on a #20 brassie. As time was drawing near for the pulse to be coming through, I made my way back up to the run I mentioned earlier. Not long into the pulse, I noticed a large pod of fish swirling just upstream. As I approached, I was very excited to see a school of browns in pre-spawn mode. There was no redd, but a group of very active male browns apparently hunting a hen brown. As I drifted my fly toward the rear of the pack I had a large fish inhale my fly. 15 minutes later I was looking at a 22" brown. However, I was unable to take a picture since my net was too small to hold the fish and its head and tail were both hanging out of the bag. While trying to take the fly out, it flopped one good time and out it went into the current and drifted downstream. Due to this, I am looking for another net. I ended up catching this little brown before having to call it quits.
Small Brown in Spawning Color
Sunday, I got my buddy Scott to come along with me and we got into them once again. The brassie was still producing for me, and the first fish of the day was a 17" bow that put up an amazing aerial display.
First Fish on Sunday
Later, we checked out the pod of fish we found the day before, and over night they had fanned out a bed. There was a big hen sitting in the middle of it, and there were lots of fish downstream of the nest. I drifted the brassie downstream of the nest and into the awaiting pod of smaller fish and hooked into another good brown. This one did not fight nearly as much as the fish the previous day, but luckily Scott was there with his net to help me land it. He was only 16", but very chunky and in full spawning colors. Ended the day with decent numbers once again.
16" Clinch Brown
We did find a couple of other abandoned redds in the area, so apparently the spawn has been going on for a couple weeks now. Hopefully this year there will be a success. I had heard reports that last year there was a successful spawn, and the brookies should also be ramping up for their first attempt in the Clinch. I am looking forward to my next chance to head back up that way, but it may be a couple weeks before I get another chance. By then it should be full on midge and BWO season, so I better start preparing my fly box now.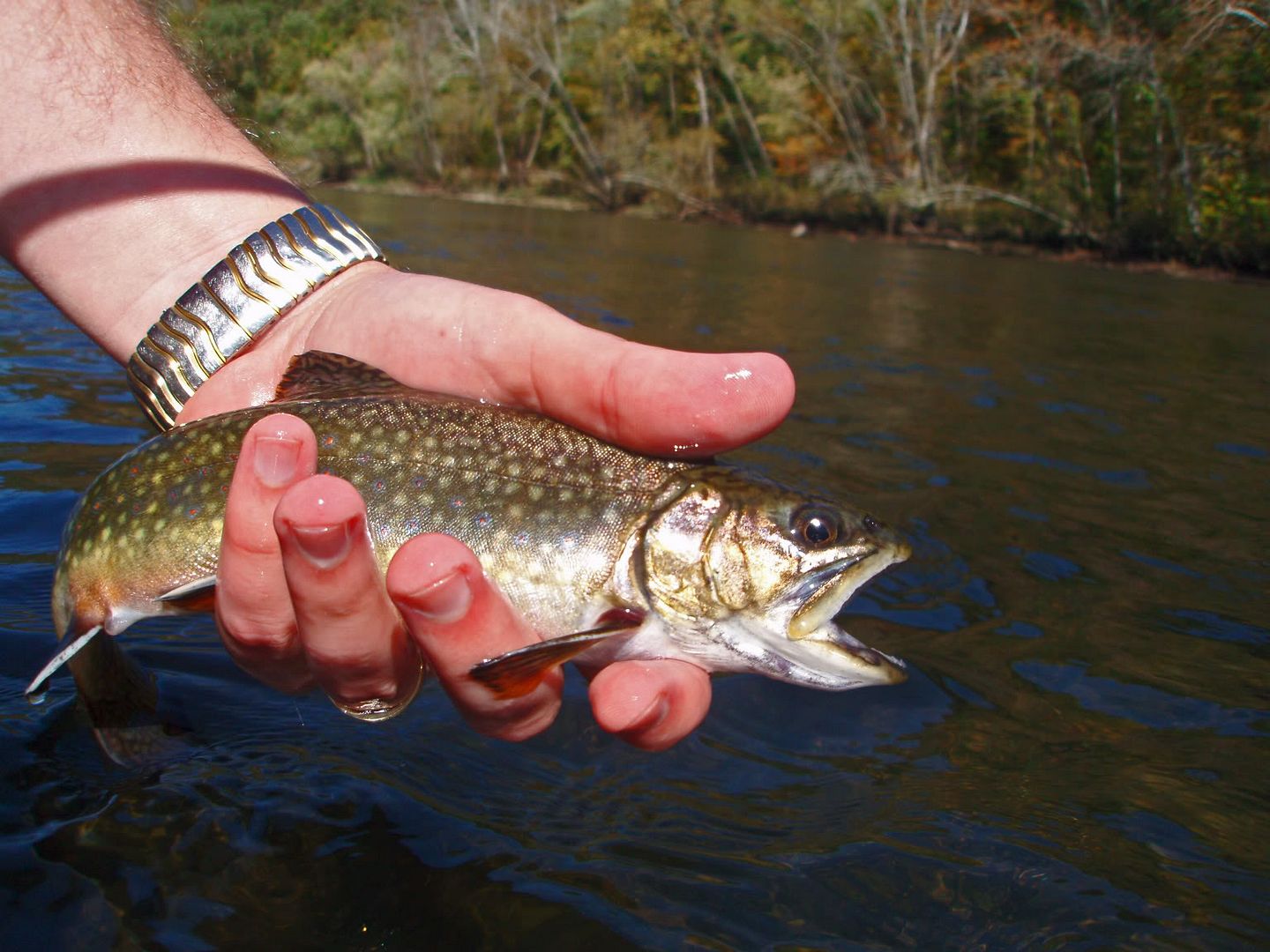 Small Brookie
Scott Re-Tying
Saturday Conditions:
Weather - Cloudy, upper 50's
Water Temp - 53 degrees
Productive Flies - #20 brassie
Sunday Conditions:
Weather - Sunny, breezy, upper 60's
Water Temp - 54 degrees
Productive Flies - #20 brassie
Tight Lines and God Bless