This past weekend Scott, Jacob, and I headed up to the Tri-Cities for some fishing on the South Holston and Watauga. It had been over a year since I last fished the Watauga and about 5 months since I was last on the South Holston.
Day 1 - Thursday Oct 9th
Plan: Float from Blevins Rd access to Watauga starting at 9:00 AM.
Report: We got a late start to the day, and didn't leave K-town until around 8:15. Upon our arrival at the Blevins Rd launch area, we were surprised to see extremely high water. A quick call to the TVA lake info line, and they were still reporting no generation at that time. While standing there a local gentleman came by and informed us that they were sluicing over the top of the dam and that the schedule is very erratic. Due to this we chose to head on over to the SoHo and set up camp.
Setting up Camp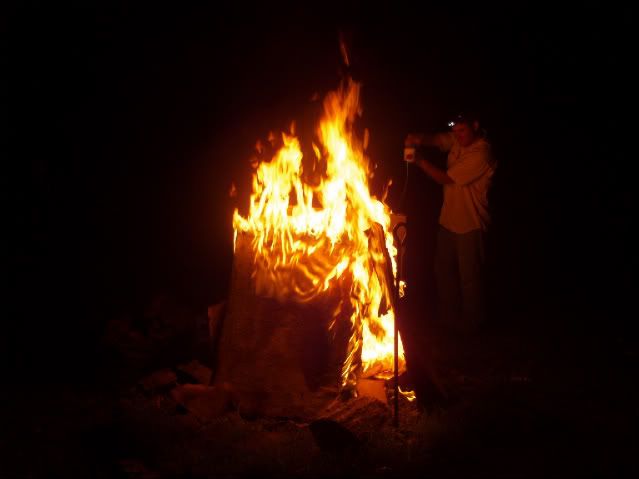 Playing With Fire
When we arrived at the river, I was chomping at the bit to get out there and fish, but we needed to take care of camp first. Weather we very comfortable and there was lots of cloud cover helping to bring the fish to the surface. I was quite surprised to find a good number of sulfurs fluttering around. I tried to match the hatch, but I was either doing something wrong or just didn't have the correct size fly on. So, I went with another very reliable pattern, the stripper midge. This was the ticket, and the browns were crushing it. I would look for rising trout and cast to them and I had a lot of success using this approach.
12" SoHo Brown
Day 2 - Friday October 10th
SoHo 180 degree Panorama (Click for larger image)
I got up around 7:45 and was once again very anxious to get to the fish. I hurriedly got into my waders and took my old faithful rig from the previous day out to see if I could pick up where I left off the day before. I did. From 8 til 11, I easily caught 2 dozen trout by using this same technique. I found that using 7x tippet greatly increased my strikes, but it also caused me to break off a couple of decent fish. Because of this I had to set down and tie up some more midges quickly during lunch.
After lunch Scott and Jacob wanted to retry our failed Watauga float trip. We launched the canoe and pontoon and headed down stream for the old River Ridge campground. During my last trip to this area, the rainbows and brookies were absolutely killing blood midges. We fished this area without any success, and because of our very limited schedule we had to press on for other water before we ran out of daylight. Eventually Jacob and I caught up with Scott downstream at another run and he had gotten into a decent little sulfur hatch and the trout were willing to eat a #18 sulfur thorax. This was a very nice section of water that would definitely warrant a future visit. It was getting dark as we approached the take out, and we found ourselves securing the canoe to the roof in the dark. Once we returned back at camp we anxiously awaited our deer tenderloin and baked potato dinner. It had been a long day, we were hungry and tired. Almost nothing tastes better than a good steak dinner when on a camping trip.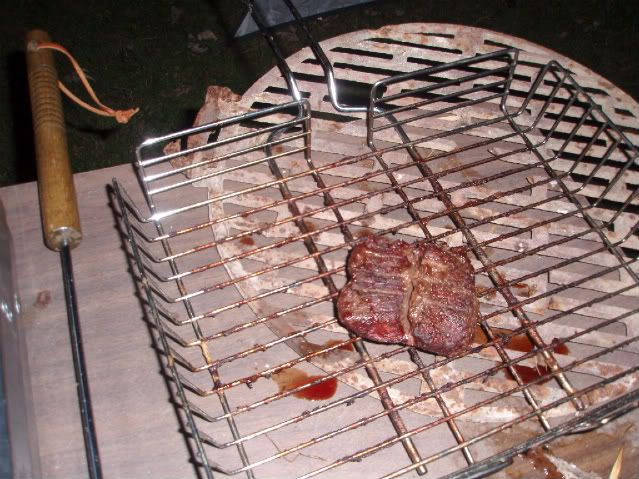 Campfire Deer Steaks
Day 3 - Saturday October 11th
I got up at 7:45, and started to the river. However, after finding the river mainly empty the first two days, I was disappointed to find fisherman everywhere. The runs that I had been slaying fish on the first two days, now had people crawling all over them. Nevertheless, this caused me to fish unfamiliar water, and it didn't disappoint. I only fished until around 10:00, but once again the stripper midge proved the best choice. At 10:00 I came back to camp to start breaking down and get prepared for lunch. Today's lunch consisted of deer burgers, and they were also very tasty. After lunch, we began the drive back home, but I was looking forward to seeing Trey for the first time in three days.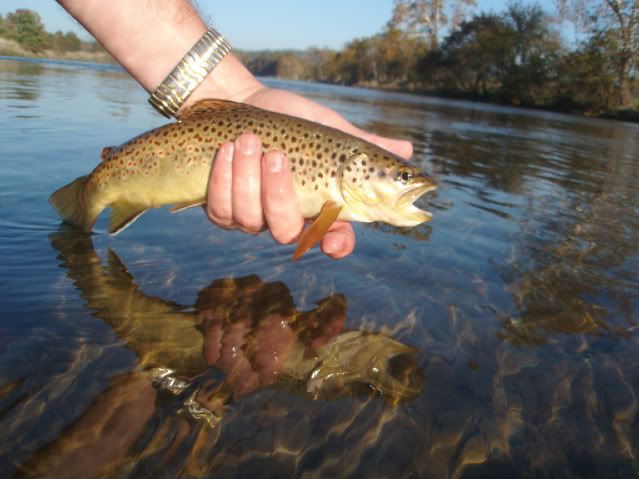 Brown Reflection
The South Holston really should start seeing the pressure in another month as the big browns start making their run upstream. I would like to make my way over there sometime in December and get into a couple large pre-spawn browns. It was nice to be out under the stars once again and spending time with good friends while fishing.
Deer Burgers
God Bless and Tight Lines