I have been planning on heading to the Smokies for some fishing the past two Fridays. Well, both times outside factors have influenced my plans, and prevented me from going. Yesterday, I did manage to make it to the mountains with Amy and Trey, and I even brought along my rod for good measure. At one point, Trey was asleep and I crept out to do some fishing while Amy set with him. Just as I closed the door, I heard "Daaadaaa?". So, I got back in and carried on with our driving and sight-seeing. On the positive side, I did manage to see my first ever bear in the Smokies. Hard to believe that after making hundreds of trips camping, hiking, and fishing that I had never seen one until yesterday. No pics of the bears(my 50mm lens just didn't have the reach), but maybe I will post some other pics from that trip later. Enough talking about yesterday, this post is supposed to be about today's fishing adventure.
I have been really wanting to get back out to the Clinch again after the last few barn-burner trips. The previous trips I had fantastic days, and seemed that I could do nothing wrong. Not only was the fishing good, but the quality of fish was not bad either. So, I woke up this morning at 6:00 and headed out the door around 6:20 to get to the river. When I arrived at 7:00, I found the parking lot empty. PERFECT! That is what I like to see. I enjoy fishing with friends and offering advice to people usually, but sometimes I just enjoy the solitude of the river and the fish. After gearing up and walking about 1/2 mile downstream to my favorite areas I began fishing around 7:45. There was absolutely no surface activity when I got to the river, but that didn't affect my game plan. Today my plan was to work some deeper runs in an attempt to pick up some of the larger fish that broke me off last time. So, I put on my double nymph rig, set my indicator around 5', and started probing the deep runs. The water was still extremely high since TVA did not turn off two generators until 1AM, so the water level was still a bit tricky to navigate.
Private Driveway to River
Things started off a little slow, but I managed to bring my first fish to the net around 9:00. It was a very nice fish of around 17", not fat but long. As the day progressed I began to see some other people making their way into the river well upstream of me, and another older fella who came in below me. He was also hooking up frequently as well, and they all appeared to be the average 11 to 13" bows that this area is loaded with. During the next three hours I managed to land about 5 more fish, and had a couple more break me off in the tangle of log jams that cover the river bottom in this area. My numbers were off a little today, but the quality made up for the lack of quantity. I ended up landing 6 fish today, 2 of which being 17" and one pushing 16". The others were the standard sized bows and even a 10" brookie thrown in for good measure. I really tried catching a decent brown today, but it just wasn't meant to be.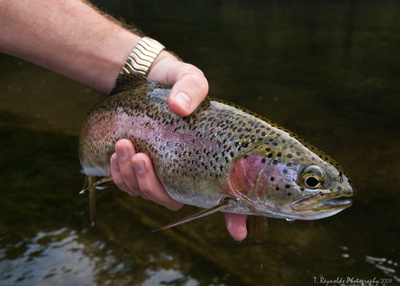 First Fish - Skinny 17" Bow
Another Good Rainbow
Can't wait to get back out there, and hopefully TVA will offer up some better schedules to allow me to fish some on Friday afternoons. Hopefully all the rain this year will not lead to a poor spawning season due to high water flows. TVA has another couple months to get things to normal before that becomes a concern.
Until next time,
Tight Lines and God Bless