Dave and I went back over to the lease yesterday to see if the warm weather over the past week has made a difference. I arrived with the water still high, and a couple of other people were gearing up. Dave showed up about an hour later. Surface activity was virtually non-existent when I got in the water, so I went with a double nymph rig.
The River
It didn't take long to hook up with my first fish, a nicely colored 8" rainbow. The coloration was much more fitting of a smokies rainbow of this size than a clinch bow. Not long afterward I tied into the largest fish I have hooked all year, and it absolutely man-handled me. I could tell that it has been a long time since I last tussled with a 16"+ fish. The 9 to 12" fish I have been catching recently really have not helped me stay on my game.
My Best Bow
Between 2:30 and 5:30, I had only landed the one little fish and had two break me off. However, at 5:30, it was like somebody flipped a switch, and there were fish rising everywhere. I was getting a take on nearly every cast, and it was a nice ending to a beautiful day. However, in the back of my mind there was still that one nice one that got away. Oh well, I know where he lives, as it isn't the first time I have had a fish break me off in this one run.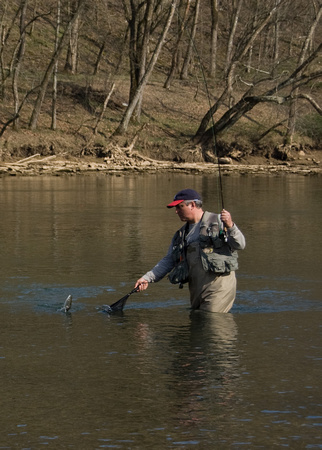 Dave Landing One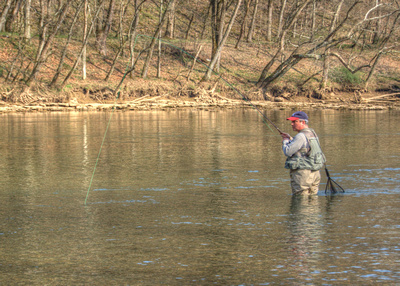 Dave Landing One
Last Fish of the Day