I usually get off work on Fridays at noon, however today I flipped my schedule. I went to the river first thing and then went into the office. Note to self: just take a vacation day since you didn't feel like doing anything after an excellent morning of fishing.
I just have to tell this little story before getting to the fishing report:
Scott and I arrived at the river around 8:00, and proceeded to gear up. We walked down to the river and strung up our rods and tied our flies on. About 8:15 we heard a car pull up and didn't think much of it. I finished tying up quicker than Scott, so I started making my way downstream. About this time I look up and there is a guy walking quickly along the bank above me. He then slides down the steep bank (not at the access point I must say), quickly says I will go down here out of your way, and starts walking downstream in front of me. Keep in mind that I was already walking downstream. This guy had to have set a land speed record trying to beat me to a particular quality piece of water. Now, just for the record, I have to add that the particular location he was in a race to is a nice little section of water. It is not uncommon to have 25 or 30 fish days in this little 50 yard stretch of water. However, the vast majority of the fish there are small, in the range of 8 to 11". Scott was with me, and I wanted him to get into some action quickly before taking him down to some more technical water that tends to hold larger fish. Needless to say this guy streaked straight for this particular section without even having his rod together, and it was obvious that he had his mind set on fishing this particular location. We let him have it, and he didn't move from it for over 3 hours. I just wish the guy would have shown some common courtesy and etiquette by asking where we were going since we were there first. I wasn't even going to fish that section, I was going to send Scott there. I have met many different people on this little section of the Clinch, and this is the first time that I have encountered this type of behavior, and I hope it isn't a developing trend.
Now to the fishing:
The river bottom was covered with a thick layer of silt due to the lack of generation lately. The floating scum that was present during the last outing was not such an issue this time. I don't recall seeing a single sulfur hatch, but that didn't seem to bother the trout. They were aggressively taking BHPTs in every run we fished. We ended up catching plenty of fish, and of those a high number were in the slot. I counted 8 fish over 14", and 2 at 17". Before leaving I took a temperature reading, and it was a surprisingly high 63 degrees. I looked back on my fishing log for the past two years and don't see the Clinch hitting that temp until August during that time frame. Not only that, but the water was up over 10 degrees since my last outing just over a week ago. That is an alarmingly fast warm rate, and I feel that TVA needs to do something to slow this trend. The lake is nearly to full pool, so maybe they will start generating soon. I took a few pics, so I hope you enjoy.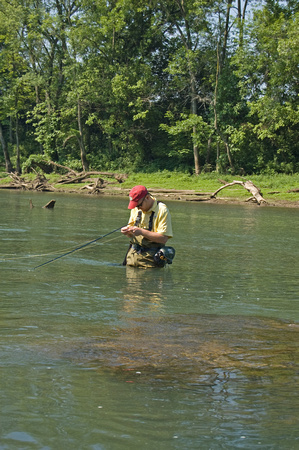 My First Fish of the Day - 17" Bow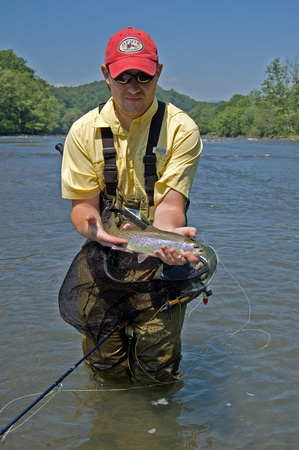 Scott with a nice 13" bow
Until next time, tight lines and God bless.