The time that so many fly fishermen in East TN wait for every year is finally upon us. The mayfly commonly referred to as the sulfur is hatching on East TN waters. From the freestone mountain streams, to the Clinch and South Holston rivers. See my previous post on the various species of sulfurs that are found in our area
Understanding Sulfurs
.
I have been lucky enough to make it out a couple times lately to the Clinch. Both trips have been early morning trips that began around 7:00 and end around 11:00. Action both times was consistent, with things really beginning to pick up around 9:30. Although activity was at a decent level, the surface activity was minimal. Most fish have been caught using either a flashback pheasant tail or a standard pheasant tail. Some fish were looking up though, as I did manage to get a couple using my sulfur hackle stacker cripple pattern.
If I were to rate this years hatch on a scale from 1 to 10, I would probably give it a 7. In comparison, last year was probably a 9 and two years ago was a 6. I expect to get out on the water a couple more times in the coming week, along with a two night camping trip on the South Holston. So, keep checking back for an update on those trips.
Below are some pics from the past couple trips.
Early Morning on the Clinch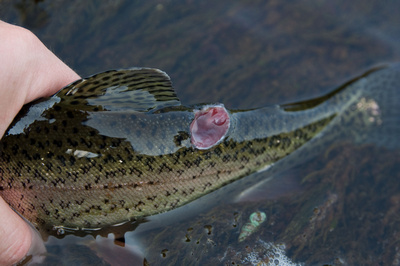 Battle Scars...