With the changing of the leaves usually comes the spawning of trout in the mountains and tailwaters. Most commonly on the tailwaters is the brown trout spawn on the Caney, South Holston, and Clinch (to an extent). In addition to that there are spawning rainbow and brown trout in the mountains. The pre-spawn period allows anglers opportunities to catch large wild trout that they otherwise may not ever even know existed.
This week East TN experienced its first cold snap of the year along with a cold rainfall. Those two events generally kick start the spawning cycle of trout, so I thought it best to take some time off work and give it a shot. I had intended to go up to the South Holston for some lake run brown trout action, but those plans fell through. So, instead I stayed a little closer to home and wanted to focus on some small stream brown, rainbow, and steelhead action. I also managed to convince my long time fishing buddy and friend Scott to join me even though the weather was predicted to not get above 50 degrees and blustery winds.
When we arrived at the stream we realized that the winds were being blocked by the mountains, always a good thing. The temps topped out around 50 degrees and the sun stayed hidden most of the day. However, we went prepared for those conditions, and it was a very nice day to be out on the water.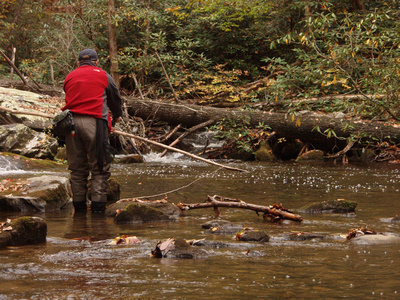 After gearing up we took our time looking for any sign of pre-spawn trout. That turned out to be less than promising, so we chose to just blindly fish a productive pool from seasons past. Scott was still tying his flies on, so I went ahead and entered the water and started fishing the pool. The recent rainfall had stained the water some, and there was a decent leaf hatch going on. Regardless, I was determined to give the pool my best effort. I had on a #8 golden stonefly and an egg pattern. On about my third drift I saw my indicator dive in a very deep area of the pool. Knowing it wasn't bottom, I set the hook hard. Due to the water clarity and fish we were chasing I was using 5X tippet, so I was not too concerned about breaking off with a strong hookset. My rod immediately bent double and I started yelling for Scott to come help. I managed to keep the fish isolated to the pool we were in and out of the tree limbs on the opposite side. After a brief two minute battle, we were looking at an 18" rainbow.
That got us pretty excited for the days potential, but little did we know that Scott would only land one other fish the rest of the time. I believe we probably timed our trip a little too soon, and may have to make a return trip in a couple weeks to see how things have progressed.
After our fishing time was up we went back to the parking lot and I put some of my new backpacking gear to use by having hot homemade chili and hot chocolate before making our way back home.