This report is a little late, but at least it is here. This past Saturday, I made it out to the Clinch for a surprising day on the water. I got to the river around 9:00 and stayed until 1:00. What I found upon arrival is a large number of trout eager to eat. This was easily the most productive fishing trip I have ever had. It was getting close to time to leave, but I wanted to catch one more fish to have a nice round number to leave with. I saw a small dimple on the surface and just as I had done numerous times earlier in the morning I put my zebra midge about 2' upstream and threw a mend into my line. A couple seconds later my strike indicator went under and I landed a nice little brown. That took my total tally to 25 for the day. I secured my line and started the journey back to the truck.
Clinch Bow
I managed to catch 2 browns and the rest were an even mix of brookies and bows. The brook trout are starting to really show their colors and are putting on some size. I also managed to land 3 bows that were touching or just over the 18" mark. Never before have I caught that many fish with the quality fish included. I have had a couple other 20 fish days, but the majority of those fish were stockers.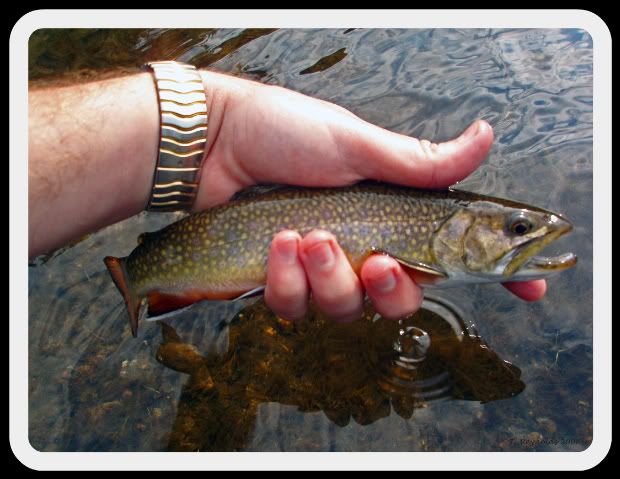 11" Brookie
Throughout the day, I was able to locate active fish and present them with a black/silver zebra midge and they devoured it. I was constantly adjusting my indicator depth to keep my fly just a couple inches above the bottom. Also, I had my best luck targeting areas of slow moving water approximately 4' deep. The best areas also had some wood debris along the bottom and I could watch the trout dart out from under the trash and strike with a vengeance. I did not have much luck with pictures this trip. Due to the areas I was fishing, I was in deep water and did not have any way of securing my rod and snapping any decent pictures. Also, a couple of the large bows were so tired after landing them that I did not want to take the time take pictures, so I promptly released them. However, I did manage to get one decent picture of one of the big bows, and it can be seen below. I had some difficulty handling the fish by myself and taking the picture, so I had to just go with my usual grip-shot.
18" Bow
Looking forward to getting back out there again, hopefully this Friday afternoon. If I do, you can expect to find another trip report shortly afterward.