Day 6 - October 10th
Although it had been a long week (physically) for the kids, it had gone by quickly. Now it was Thursday, and time to start making our way back to the Denver Airport. On the drive 6 days prior we stopped at a gold mine in Idaho Springs, CO that we wanted to stop at again to let Trey take the tour and pan for gold. This turned out to be probably his favorite day of the trip, as he loves to pretend like he is mining for gold and gemstones.
The first 30 minutes or so was a classroom setting where we learned of all the various items that were mined for in the area.
Trey holding a real gold nugget
Trey volunteering to help with the demonstration
Next was a self guided tour of a small mine, followed by the old refinery.
First one off the bus and up the trail!
Posing for a photo at the mine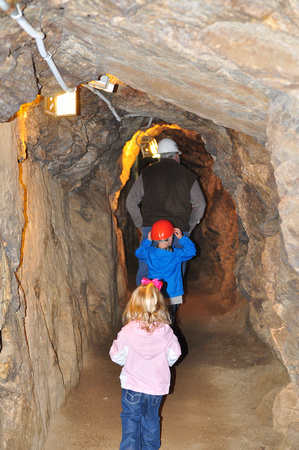 Next up was the big event, Trey got learn how to pan for gold. While Trey was taking lessons, sis was more interested in riding the "wittle howsie".
Papaw and Trey panning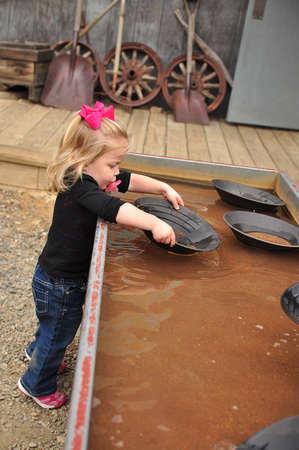 Sissy wanted to try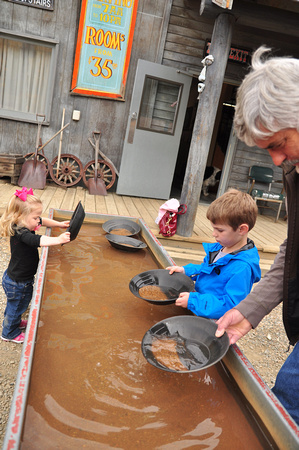 Trey analyzing his pan contents
Yep! Looks like gold to me
Trey was excited about his gold find, and next we his gemstone attempt.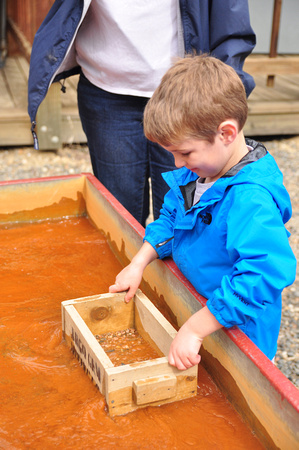 Anything in there?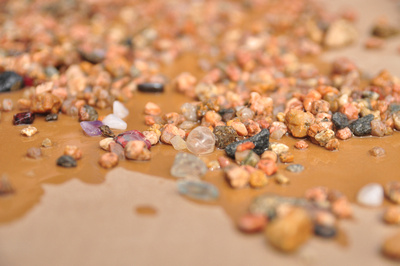 I would say Yes!
A proud boy with his find
What a wonderful trip this was. Our family likes to try and find unique vacation ideas every year, other than just going to be beach every year. Not that there is anything wrong with beach trips, as we still try to take one every other year. We have been blessed with jobs and opportunities to expand our children's experiences and knowledge via these vacations, kind of like "field trips". I encourage other families to break out of the routine of "summer beach trip", you might just be surprised how much you will learn and enjoy.
I also must mention how thankful I am that my dad was able to go on this trip with us. He has wanted to visit the Rocky Mountains for years, and he thought his time and opportunities were drawing to a close. So, we were more than happy to have him along. This was a vacation our kids will remember for years, and even more importantly are the memories that they formed with their papaw during this time.
I hope you have enjoyed this recap of our adventure and photos. Please check back often for other entries that may include fishing/camping/hunting trips, gear reviews, etc. You never really know what you will see on The Fishing Fanatic!
God Bless,
Travis