I took a vacation day today, and Scott and I hit the Clinch after a long absence. We got to the water around 9:00 and fished thru the pulse until 3:00. Needless to say, had the water not been coming up on us, we would have stayed even longer. It was perhaps the most outstanding day of fishing we have ever had. The fish were stupidly aggressive feeding on sulfurs. And it was good to see a very good hatch coming off today, after much debate as to whether there would be any present due to the high generation flows.
The trout were absolutely crushing pheasant tails, sulfur thorax duns, and sulfur wulff patterns. Most were in the 12-14" range, however we did catch our fare share in the slot. I also had four fish break me off today on 5X fluorocarbon tippet, I guess it is time to upgrade to some Seaguar GrandMax fluoro. Even using the 5X tippet, the fish were not line shy like they typically are. By lunch time I had already lost count of the number of fish caught, and as we were walking out all we could do was talk about how good of a day it was. Our estimation is that we easily caught 50 fish between the two of us, and that isn't taking into consideration the fish that either broke off or came off during the fight. I have to travel to Nebraska for work next week, but I will try to get out on the water shortly afterward.
Today also marked the first time I took my D40 to the river with me. I was quite pleased with the pictures I got, and there is a sample of some below. I was limited in the number of fish pictures I got since I took along my 50mm f/1.8 lens that is a manual focus on my camera. Next time I will bring along my kit lens so that I can get more fish shots.
Summary:
# of fish caught: 50+ (between the two of us)
Weather: Cloudy and upper 70's
Water Temp: N/A
Fly Patterns: #16 BHPT, #16 Sulfur Thorax, #14 Sulfur Wulff
Gearing Up
Early Morning Fog
Lunchtime
Waiting out a Storm
Scott working a run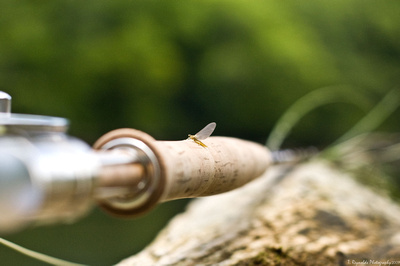 Sulfur Dun
Decent Brown with Bite Marks