I took today off work to unwind from a very busy and stressful past couple of weeks at work. After doing my work around the house, I loaded up and went to Nance's Ferry. I had originally intended to go to the Smokies, but we are going tomorrow. So, this gave me a chance to try the Holston out again. When I arrived, the parking lot was deserted. I geared up and made my way out into the river watching for risers as I went. Not long after my first cast 4 vehicles pulled into the parking lot, so much for solitary fishing today. Oh well, I just went a significant distance upstream and the new arrivals never got within a couple hundred yards of me.
There were lots of fish rising to what appeared to be midges, and I checked the water temp. It was in the low 50's, that was very surprising. I guess the past couple days of warm rainfall had spiked the temps. Not only were fish rising everywhere, but carp were up in the shallows jumping. I guess 50 degrees is the temp where they begin to get really active. I saw a couple that would have easily been 25 or 30 lbs.
Now to the fishing....
After getting my indicator depth set correctly, I began to pick up fish. Most were about the same size as last time, 12 - 14". However, this trip there was a surprise waiting for me. After catching my first few bows on a zebra midge, I switched to an olive slumpbuster in hopes of finding something larger. What I found was a shoal that was jam packed with eager to eat smallmouth. These guys were absolutely crushing the slumpbuster as I stripped across the end of a large pool. In this same pool, I also caught quite a few more bows on the streamer. The smallies just put up such a fierce battle everytime, and a couple treated me with an aerial display. I can see why smallies on the fly can be addictive, I may have to try this again in the future.
Holston River Smallie
Another Shot
Until then, Tight Lines and God Bless
Trip Summary:
Weather: Cloudy, Windy, Low 50's
Water Temp: Low 50's
# of fish caught: 20-ish
Best Fly: Olive Slumpbuster
Technique: Stripping slowly along the tail of pools, and at the head of runs.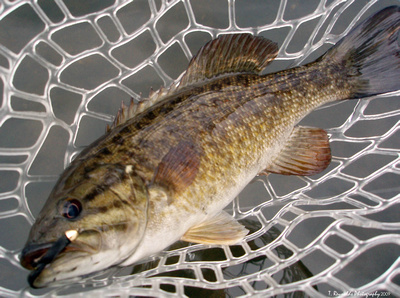 Bold Colors